The Making of I Wish You Love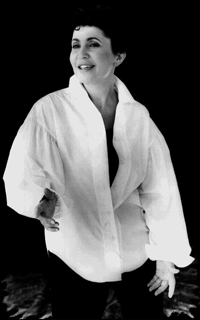 Raquel Bitton
In 1970, my family and I moved from Casablanca to San Francisco . Although I adored the French music I grew up with, it was especially exciting as a teenager coming to America and discovering a fantastic array of new "American" music.
Crossing the Atlantic and blending the best of both worlds reflects my personal background and desire to present "I wish you love".
This recording is a tribute to some of my favorite French composers whose music became classics. I marveled at the exquisite English adaptations. To stay true to an original text is quite an art.
I begin my tribute with Paul Misraki, the "Gershwin of France". His style was inspired by the American Composers of the 1930's. A member of the Ray Ventura Orchestra, he introduced the French to the swing era.
I've also included Charle Trenet. Famous for having written the song "Beyond the sea", in France he is considered the master of the "ditty", but his best known work,"I wish you love", is hardly that, from Sinatra to Streisand, it has become an American classic.
The third magician of that wondrous era of the 30's and 40's is Henri Contet, my young friend of 92 years old. I first met him in Paris in 1992. I told him about my plans for this album,he sent me several songs, and I chose "Pleures pas" for its largesse de coeur, its immense sense of giving love (Don't cry, your eyes are too beautiful to cry, you told me you did not love me , for you I will hide my tears way deep in my heart, so you won't see me cry).
These three composers are of an era and a time that are very special to me and to French popular music.
I continue this tribute with the contemporary composer Michel Legrand and his lovely "La valse des lilas" (Once upon a summertime), which I felt embraced well Jean Lenoir's 1929 song Parlez moi d'amour (Speak to me of love).
George Moustaki, the rugged poet with the stirring voice had written for Edith Piaf in the early sixties, he gave her the song Milord.T'es beau tu sais (You're so handsome you know,stay right here, don't move, let me caress your lips, your eyes, my hand trembles) has that ever changing haunting melody.
Gilbert Becaud has an extraordinary style of happy sounds in his music. L'important c'est la rose is uplifting and full of promise.
In including Jacques Brel, one might assume I would choose "Ne me quitte pas" (If you go away, which has been beautifully sung by Nina Simone), but I felt that If we only had love depicts perfectly the times we live in.
Because I welcome "La difference", I included a song by "Carroll Coates" , an English composer who lives in San Francisco,and to me has a French soul. The composer of London by night , his song Love comes and goes won my heart for its beauty and simplicity.
The stellar team of Jacques Prevert and Joseph Kosma , who teamed up in the mid forties to create the script for Marcel Carne's French classic "Children of Paradise",later created another wonder "Autumn leaves" (Les feuilles mortes').
Last but not least is Edith Piaf , who I celebrate here as a composer. She wrote her most famous song La vie en rose on a napkin sitting at a sidewalk cafe in Paris. Her surprising song, Don't cry , co-written with her American lover at the time, Eddie Constantine has such a country feeling to it, I'm sure Patsy Cline would have delighted in it.
Raquel