Raquel Bitton
French jazz singer and recording artist Raquel Bitton is recognized as the foremost singer of French Jazz music in America today and has been internationally reviewed as the greatest interpreter of the music from the Edith Piaf repertoire.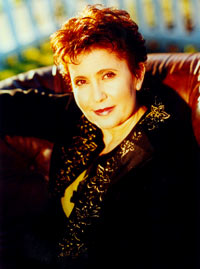 Raquel Bitton
Raquel was Born in Marrakesh, Morocco. In 1970, as a teenager, Raquel and her family moved to San Francisco where she began her American career, focusing on the songs from the French l'Age d'Or.
She discovered her French repertoire by dusting off her father's old records that he brought with him to America. Raquel was drawn to the passionate melodies and lyrics of the romantic period of the 1930's and 40's.
Raquel's insatiable appetite for songs of the heart led her to the Edith Piaf songbook. Raquel became not only an expert historian on the life and songs of Edith Piaf, but also a renowned interpreter of her music, singularly able to capture the complete essence of one of the great vocalists of the 20th Century.
Raquel has performed her hit show, "Raquel Bitton sings Piaf- her story, her songs" to sold-out performances at notable concert halls across North America including Carnegie Hall 3x
"PIAF- her story, her songs" celebrates the extraordinary life of the legendary Piaf through her songs. A 20-piece orchestra backs Bitton's one-woman tribute to the "little sparrow."
Bitton's unique, heartfelt renditions (sung in French) and her powerful delivery take her audience on an intensely moving and emotional journey.
In addition, Raquel performs several other elegant French-themed presentations including "Pops goes to Paris" (for symphony pops) "A Little Bit Of Paris" and now her newest show "Boleros" Where Passion Meets Romance to support her new French/Latin Jazz CD release "Boleros"
Critical Acclaim


"MAGNIFICENT, EMOTIONAL, MESMERIZING….
Musically stunning' Bitton's impassioned delivery has a trance-like effect on a listener. Piaf and Billie Holiday share a poignancy that few others have mastered; Bitton, here, is one." Phil Elwood, San Francisco Examiner
"BITTON'S VOCALS…HONORED PIAF'S STYLE
without strictly imitating it. No one could live up to a legend so inflated, but a bright interpreter like Ms. Bitton certainly can illuminate it." Ann Powers, The New York Times
"BITTON OFFERS TOUCHING TRIBUTE TO PIAF.
Bitton delivered a performance that would surely have been touching even to someone who'd never heard of Piaf. Classic pieces such as Sous le ciel de Paris; Milord; Non, je ne regrette rien; and, of course, La vie en rose triggered ecstatic applause from a packed crowd." Don Heckman, Los Angeles Times
Fact Sheet:

Concert presentations:
Piaf- her story, her songs
A Little Bit Of Paris
Boleros- where passion meets romance
Theatre
(in final development as of May 2009)
- "The Sparrow and the Birdman", a play with music celebrating the friendship between the French poet Jean Cocteau and the legendary French singer Edith Piaf. Raquel conceived this play, was commissioned to write it by Theatre Works where she co-wrote it and will star in future performances.
Film
- "Piaf- her story, her songs". A docu-concert film written by and starring Raquel Bitton. Won several prestigious film festival awards and was released by Lions Gate Films in 2003
Ballet
- Le Ballet des coeurs "Hearts", Raquel was responsible for the concept and scenario of this full-length ballet that married the story line of the classic French film "les enfant du paradis" with selected songs from the Piaf repertoire that tell the story which was choreographed by Michael Smuin. A 65 piece orchestra accompanied Raquel as the ballet was preformed at the Opera House in San Francisco for two seasons with the San Francisco Ballet and at the Kennedy Center in DC with the Washington Ballet.
Radio/TV
- Co-Produced "The Nights of Edith Piaf" for National Public Radio
- Consultant for and appeared in the PBS television documentary, "La Vie en Rose"
Discography (seven albums to date)
"PIAF IS BORN AGAIN – RAQUEL BITTON BRINGS A LEGEND BACK TO LIFE.
Raquel Bitton went straight to the audience's heart like Piaf before her…. [Carnegie Hall] was packed with people far as the eye could see. Raquel Bitton's show was well and truly sold out! This singer doesn't simply imitate, she performs in her own right and performs with the same burning passion of the one and only Madame Piaf! That Saturday night, another star was born." Myriem Wong, France Amerique/Radio France International/Figaro.
"THERE IS THE UNMISTAKABLE PASSION
Ms. Bitton brings to her invocation of the Piaf vocal spirit." Barry Singer, The New York Times